USB Audio and Video for iPod/iPhone etc.
Enjoy digital audio/video from your iPod, iPhone or USB devices with High-Speed transfer (USB2.0). Compatibility with USB High-Speed transmission (480Mbps) allows smoother iPod/iPhone operation and charging.
Amazing Jacket Picture Display
KW-NT3HDT can display the album artwork large and fully detailed. Tag data can be read and scrolled.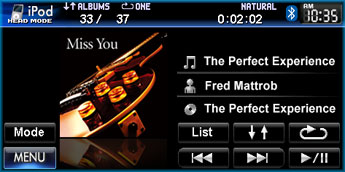 External Mode for iPod/iPhone
You can listen to the sound of iPod/iPhone apps, such as games, web radio, and YouTube, with high current ready power supply.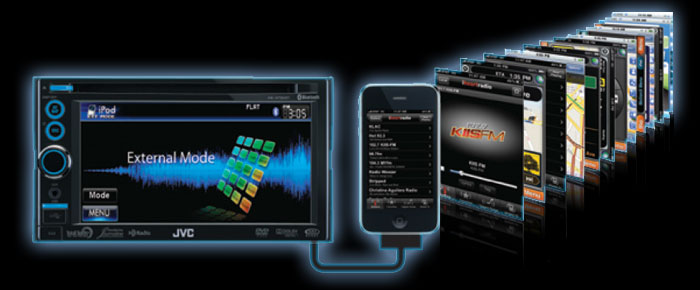 2 way control for iPod/iPhone
The 2-way control for iPod/iPhone lets you easily operate on your iPod/iPhone or the headunit. Pressing the iPod key once will switch between iPod mode and headunit mode. Basic functions can be controlled on the headunit even during iPod/iPhone mode. The song information is shown on the display for both modes.
*Compatibility with 2-way control for iPod/iPhone differs by model. Please visit here for details.
*KS-U29 required for iPod/iPhone video playback.

TAG Display Language
Multiple languages can be displayed, including English, Spanish, French, Italian, German, Russian, Greek, Japanese, Traditional Chinese, Simplified Chinese, as well as Korean.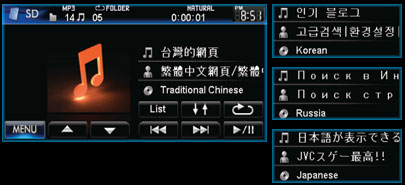 Front USB & AUX
The front panel USB and AUX Input provide flexible audio playback options.
iPod Alphabet Search
You can search through song names alphabetically which makes it easier to work through the vast amount of songs in the iPod/iPhone.