Fast Response & High Accuracy
With high-quality memory and original compression technology, the KW-NT3HDT is highly responsive. All operations (such as system boot up) are very smooth and stress free. The speed is amazing! Traffic information transmits over the HD Radio network, so its frequency of update and speed of receiving is very quick. Best of all, this service is free ? a lifetime subscription is included!
Windows Automotive / Powerful and Fast 400MHz CPU
Highly reliable Windows Automotive OS and 400MHz CPU provide quick and stable operation, with system start up in less than 15 seconds, and map scroll in less than a second.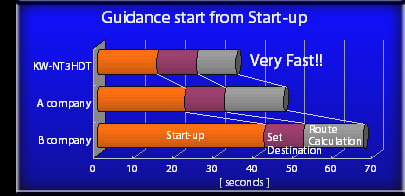 High Accuracy GPS Navigation by 3 Sensors
Unlike portable navigation which uses GPS signal only, KW-NT3HDT finds your location quickly and accurately by using three separate sensors. This helps the system lock in and keep your current location even in places where GPS signal is hard to receive such as tunnels and parking garages. The GPS antenna comes with a 5 meter extension so it can even be mounted externally for more optimum reception.