Easy operation & Smart GUI
With hard keys located in left side of navigation and Grid Design, KW-NT3HDT provides safety and comfortable driving.
Easy Operation [ Hard key ]
Frequently used keys such as AV and Volume are conveniently located on the left side of the KW-NT3HDT.
Push "AV/Map " key to change AV display to Navi display / Navi display to AV display.
Push "SRC " key, to change AV source by toggle.
Rotate the knob, to change the volume - an indicator appears as a volume bar (similar to a Television screen).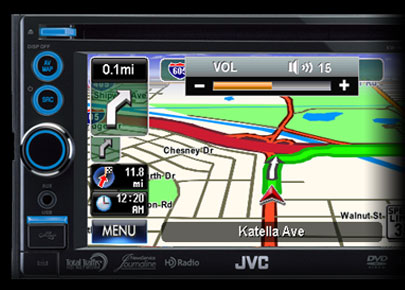 Grid Design for easy control
Grid Design is utilized in different areas of Graphic User Interface. This ensures that the button for key functions are located same position in all displays of navigation. With sophisticated design and big icons, you can operate the navigation easily and comfortably.