Built-in HD Radio
Enjoy a multitude of HD Radio® programs in premium digital sound, without external tuners. FM radio sounds equivalent to CD quality, and AM as good as normal FM. Additionally, iTunes Tagging lets you "Tag" songs you hear on HD Radio® for easy purchase at the iTunes Music Store.
Built-in Dual HD Radio Tuner
The KW-NT3HDT has a built-in Dual Tuner system for HD Radio. Both tuners can receive HD Radio signal. The first tuner is for the Audio contents, and the second one is for the HD Total Traffic Network Data services (Real time traffic, News Headline, Weather, Sport scores, and more…), via HD Radio. Dual tuners allow listening to HD Radio stations and using HD Total traffic Network Data services at the same time. In case of single-tuner system, HD Audio and HD Total Traffic Network Data services have to be received from the same radio station. In other words, while listening to your favorite HD Radio station, you may not be able to receive HD Total Traffic Network services at the same time because there are less HD Data broadcasters on air.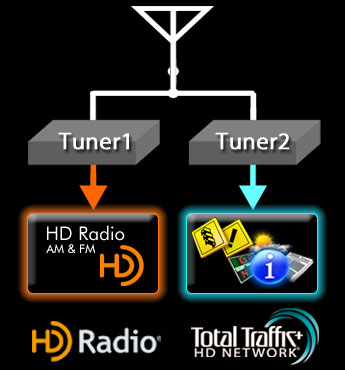 For example, in the Los Angeles market, there are over 40 receivable HD Radio stations, but HD Data services are broadcasted from five stations. KW-NT3HDT gives you full HD Radio function with HD Data services at the same time.
iTunes Tagging
How it Works:
To save information of a song played on the radio, press the "Tag" key.
Information is transferred to your iPod when you connect to the headunit.
Information is transferred to iTunes when you sync your iPod on the PC.
The song shows up on iTunes's "Tagged" playlist.
Click on button to purchase the song from iTunes Store.